-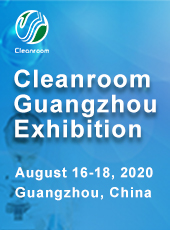 Cleanroom Guangzhou Exhibition 2020 is expected to host 150+ exhibitors on a show floor of 10,000 from August 16th to 18th in China Import and Export Fair Complex, Guangzhou, China. Don't hesitate to contact us for more information or Visitor/Exhibitor Registration!
Partial Previous Exhibitors Including
Hollingsworth & Vose, TSI Incorporated ,Purafil Filtration ,Guangzhou Cas Test Technical Services,Dynaco, Gerfloor,TKSAGE, Sun Holy Wind , WATREAT, MediTech Technology, Hejing Cleaning, Chyi Lee Industry , Tongxin Purification, Ahlstrom-Munksjö, Osbert, 4G Filter, Clima Air Purity, National Air Cleaner & Gas Detect Production, Quality Supervision and Inspection Center (Jiangsu), Suzhou Clean Industry Association, Guangdong Association of Cleanroom Technology (GACT), Cleanrooms China Magazine
... ...
Return to overview